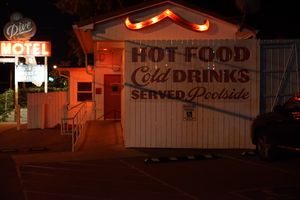 The Hope, The Fear is the pseudonym of multi-instrumentalist Alex Fletcher. In 2020 the Leeds-based artist began writing. At first, a few penned notes and melodies, but soon something more.  
Initially compelled by the instinct to tell stories Fletcher's intention quickly turned. The music became a mechanism. A tool. An expression of life's course. A brush to paint his portrait of family, lovers, loss and love. And this bleeds from every corner of every song.  
Born out of the raw untamed basements and clubs of England, The Hope, The Fear carry a torch for the fearsome grassroots bands of the north, but bear a distinct Americana brand.  
As hints of songwriters such as Ruston Kelly and David Ramirez lurk beneath, the 25-year-old draws you through those Northern landscapes. If you listen, as the cathedral of sounds crash around, you'll hear a proposition. An outstretched hand inviting you in.  
As part of various acts Alex has toured the world, playing the some of the most prestigious venues and festivals, achieving radio play on BBC Introducing and BBC Radio 6, and yet this is where he has made his mark. The music sounded so raw, so fulfilled and so guided.  
This is a message, a prayer, a mantra. A cascading of truth and honesty. 
It is the Hope we'll make it through, but the Fear we'll do it alone.